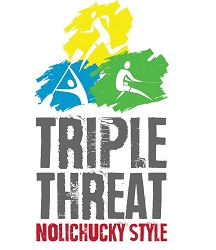 Noli Triple Threat
Noli Triple Threat
12 noon. Where agility rafts whitewater, where strength challenges obstacles, and where endurance hikes mountains, The Triple Threat is the only event that begins on the churning whitewaters of the Nolichucky River and finishes with a battle against nature's terrain. The Triple Threat is a triathlon event designed to challenge the most enthusiastic competitor. While testing your skills and pushing you to the limit, this event will keep you screaming.
Race Distances
Triple Threat Triathlon
Are we missing results?
Let us know and we'll get them added.
This website uses cookies to improve user experience. By using our website you consent to all cookies in accordance with our
Privacy Policy