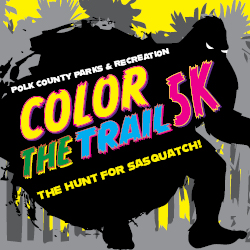 Color the Trail 5k
Color the Trail 5k: The Hunt for Sasquatch
Runners will enjoy a fun and adventurous trail run at Polk County Parks & Recreation's Bone Valley ATV Park. This race will feature 3.1 miles of uneven terrain and blasts of color along the way. Who knows maybe there will be a Sasquatch sighting. The event will end with an awards ceremony for various age groups and fun interactive activities.
Race Distances
Color the Trail 5K
Are we missing results?
Let us know and we'll get them added.
This website uses cookies to improve user experience. By using our website you consent to all cookies in accordance with our
Privacy Policy