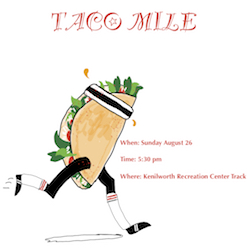 November Project DC / #FitDC / DC Parks and Recreation Inaugural Taco Mile
November Project DC / #FitDC / DC Parks & Rec Taco Mile
November Project DC, Mayor Muriel Bowser, and DC Parks and Recreation, with support from Pacers Running, District Taco and Shake Shack, are happy to invite you to join us for some taco-filled #freefitness event on Sunday August 26. Sound good? Read more below!
Race Distances
Family Fun Run 5:30PM
Heat 1: Fun Taco Mile 5:45PM
Heat 2: Fun Taco Mile 6:00PM
Heat 3: Fun Taco Mile 6:15PM
Heat 4: Fast Taco Mile 6:30PM
Heat 5: Fast Taco Mile 6:45PM
Heat 6: Elite Taco Mile 7:00PM
Are we missing results?
Let us know and we'll get them added.
This website uses cookies to improve user experience. By using our website you consent to all cookies in accordance with our
Privacy Policy