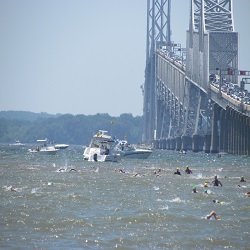 Great Chesapeake Bay Swim
2020 GCBS 4.4 Mile Swim & 1 Mile Bay Challenge
29th Annual 4.4 GCBS Event Date: Sun. June 14, 2020Hemingway's Marina at the Bay Bridge Eastern Shores of the Twin Bridges, Exit 37 S. off Rt. 50, Pier One Rd., Stevensville, MD. All 4.4 swimmers, only, are bused over the bridge to Sandy Point State Park, for the 4.4 swim check-in, and swim start. ALL THIS INFO and more will be posted and featured at: www.linmarksports.com THE ONE MI. BAY CHALLENGE will open to on-line entry 2/1/2020, and also featured on LINMARK's web site.
Schedule
Schedule subject to change. Always check with the event organizer for the official schedule.
Show your commitment. Add to your upcoming events!
Are we missing results?
Let us know and we'll get them added.
This website uses cookies to improve user experience. By using our website you consent to all cookies in accordance with our
Privacy Policy