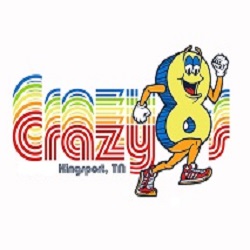 Crazy 8s 8K Run, 3K Run/Walk, Little 8s & Special 8s
Crazy 8s 8K, Almost Crazy 3K Run/Walk, Little8s/Special 8s
As the Beatles said, COME TOGETHER... RIGHT NOW. Let's get back to running and walking together at the 2021 Crazy 8s. Named one of 25 Iconic American Road Races by Runner's World! World's Fastest 8K! Late night race on unique figure-8 course on beautiful candle-lit streets. Rousing finish inside J. Fred Johnson Stadium. Also: Almost Crazy 3K Run/Walk. Little 8s and Special 8s Youth Runs take place on the football field inside the stadium. Click MORE for additional instructions.
Schedule
6:58 PM EDT
Little 8s Youth Runs
7:58 PM EDT
Almost Crazy 3K Run/Walk
8:58 PM EDT
Crazy 8s 8K Run
8:58 PM EDT
Lazy 8s (Virtual 8K)
Schedule subject to change. Always check with the event organizer for the official schedule.
Are we missing results?
Let us know and we'll get them added.
This website uses cookies to improve user experience. By using our website you consent to all cookies in accordance with our
Privacy Policy